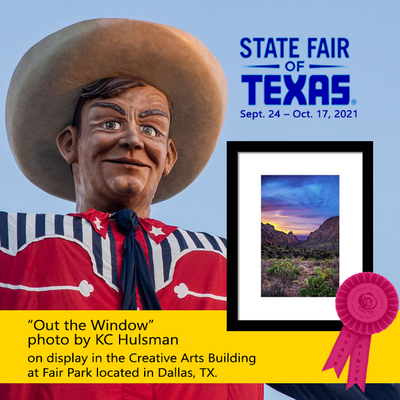 FOR IMMEDIATE RELEASE - August 23, 2021



Hurst, TX: Today, the Hurst based landscape and nature photographer KC Hulsman won Second Place from the State Fair of Texas in the highly competitive Creative Arts Photography contest, specifically in the Teachers and Professionals Division, under the category of Color: Landscape in Texas / Other than in Texas.


Established in 1866, the State Fair of Texas celebrates all things Texan by promoting agriculture, education, and community involvement through quality entertainment in a family-friendly environment. As a 501(c)(3) nonprofit organization with all proceeds helping to preserve and improve Fair Park; underwrite museum, community, and scholarship programs for inner-city youth and students pursuing agricultural careers; and improve state fair operations.


This represents two consecutive years of photography awards from the State Fair of Texas for Ms. Hulsman, who won Third Place previously in the...